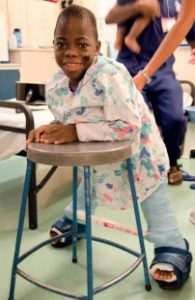 Yaya stole his grandmother's heart from day one. His ready smile and eagerness to be close to her formed a thick bond. When tragedy struck Yaya, Kadiatou was distraught. "Yaya started walking when he was one year old, but after taking a few steps he would fall. We tried many traditional medicines, but his condition grew worse. At eighteen months, his legs started to twist and curl up. They failed him entirely."
Kadiatou, who had taken in her daughter's five children, decided that moving the family to Conakry, the capital of Guinea, was best for Yaya. "I hoped that the medical care Yaya needed was in a big city. As well, I knew that Conakry had schools for handicapped children that Yaya could attend." Another important reason for the move was that Kadiatou was protecting Yaya from the villagers who thought that children with disabilities were cursed. She would not stand for her grandson being tormented, ridiculed, or forced into hiding.
Yaya himself dared not hope. But then an incredible set of circumstances unfolded around him. Australian volunteer Nick Veltjens, who worked with orthopsedic patients, saw Yaya at the patient screening location the day before consultations began. "I waited all screening day for Yaya to come because I thought we could help him. We didn't see him that day, so I sent an email around asking if anyone knew where he was."
The next day, Dan Bergman, a long-term Mercy Ships volunteer, came to Nick with a video of a possible orthopaedic patient that he had just seen outside the Mercy Ships Dental Clinic. According to Nick, "What a coincidence that Dan found the same little guy that I was looking for!"
Dr. Frank Haydon, volunteer orthopaedic surgeon, was able to fix Yaya's legs. According to Dr. Frank, "The condition that Yaya was born with caused his bones to be very brittle. As he started to walk, the pressure on the bones caused multiple fractures. The surgery he had aligned his leg bones properly, and the two rods I installed will give his legs the needed strength and structure so he can walk."
Each day Yaya does grow stronger. He is starting to take his own steps with the help of a walker, and he has progressed to simple below-the-knee leg casts. But at the same time, each day wears on Kadiatou. She shows the strain of being away from family and being indebted to more and more neighbours. She has borrowed money from them for food and malaria medication. However, regardless of the hardship, Kadiatou's commitment to see Yaya through his healing journey is unwavering. "I would endure anything so Yaya can do what he longs to do more than anything else – play football. By suffering for Yaya and my family now, I know that there will be great happiness in the future," she says.