Deputy Chief Medical Officer Michelle White travels to Lakossa to help train Beninese medics while Australian medic Nick Veltjens mentors local physiotherapist Melchior in the Ponseti method of treating club feet. Featured patients include Howefassi – a woman with a large and complex neck tumour that tests surgeon Mark Shrime to his limits, Baby Joanes – a clubfoot patient treated by the Ponseti team, and Baby Riana – a girl with a rare disease called arthro-gryposis that can only be partially treated on the ship.
Crew & Patient Bios
Meet the Mercy Ships volunteers and their patients featured in Episode 8 of The Surgery Ship.
Nick Veltjens
Ponseti Clinic Coordinator – Australia
Nick Veltjens first served with Mercy Ships in 2010 and has been returning to Africa each year ever since. Nick is a physiotherapist from Brisbane who specialises in correcting club feet using the Ponseti method, which involves casting the foot in a series of casts that gradually guide the foot into the correct position. Nick met his wife Suzanne on board the Africa Mercy  in Guinea in 2012 and they were married in 2014.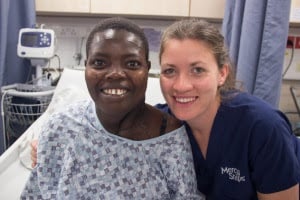 Howefassi
Maxillofacial patient, 36
Howefassi's tumour is one of the biggest Mercy Ships has encountered during their Benin service. Her specialist surgeon, Dr. Mark Shrime, performs a CT scan which reveals the mass to be a set of separate tumours. 'It's the equivalent of about five grapefruits,' he says. Howefassi's surgery is one of the riskiest procedures Dr. Mark has performed.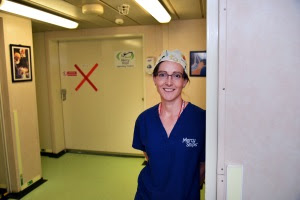 Dr. Michelle White
Deputy Chief Medical Officer/Anaesthetist – UK
Dr. Michelle White joined Mercy Ships on her first of six commitments on board in December 2005.  Serving as Anaesthesia Supervisor before developing the Capacity Building side of Mercy Ships operations, Dr. Michelle is invaluable in the operating room and also essential for bringing medical education to the countries they serve.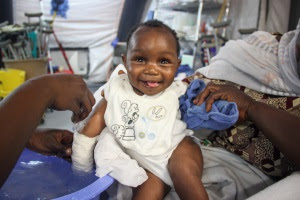 Riana
Ponseti patient, 3 months
Baby Riana was born with a disorder that has caused her hands and feet grow inwards at a 180 degree angle. It's a deformity that has serious consequences for her future. Riana's case is one of the most difficult the Mercy Ships team have ever encountered. Not only is her medical condition extremely complex, it brings significant emotional and ethical challenges to the team as well.