Featured patients include Ramani – a devout Muslim man with a mysterious bone and tissue growth abnormality that deforms his face, Elizabeth – a 20 year old girl with a huge facial tumour her family believe is a voodoo curse, Viviane – a mother of 6 with a tumour of the manible, and Elie – a young Christian boy with gigantism. This episode explores cultural and religious factors that accompany the patient stories.
Crew & Patient Bios
Meet the Mercy Ships volunteers and their patients featured in Episode 4 of The Surgery Ship.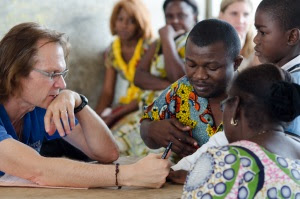 Dr. Tertius Venter
Plastic Surgeon – South Africa
Dr. Tertius Venter is passionate about raising awareness of the fact that one third of the world's population has no access to surgical care and through his writing, workshops and fundraising activities encourages others to get involved. Initially he funded his volunteer work by performing cosmetic surgery in developed nations 60-90 days a year but since 2012 has become a full time volunteer.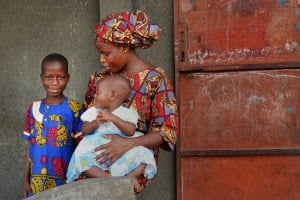 Elie
Plastics patient, 10
Elie is a ten year old boy who lives with his parents and brothers in Porto Novo, the leafy capital of Benin. Elie has an infectious smile and loves football. But the abnormal growth of his foot has made life for Elie increasingly difficult. South African plastic surgeon Dr. Tertius Venter examines Elie's foot and determines the most effective course of action and Elie is admitted to the Africa Mercy for surgery.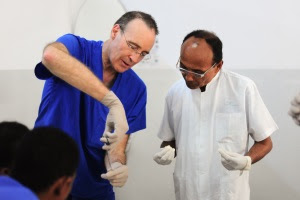 Dr. Lindsay Sherriff
Deputy  Chief Medical Officer/Hospital Physician – Australia
Dr. Lindsay Sherriff met his wife Dianne 40 years ago, got married, started a family and opened a thriving general practice in Kerang, Victoria. The newly married couple prepared themselves as "generalists", able to practice medicine anywhere. Once ready to start their overseas mission work, they applied to various organisations. But strangely, they all fell through. Despite these closed doors, there were other opportunities in Australia so Lindsay and Dianne built a life together here.
Then in 2014, with two grown sons, the time seemed right to serve in a developing nation. That's when a Mercy Ships brochure came in the mail and the couple decided to apply.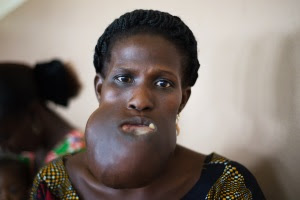 Viviane
Maxillo Facial patient
Viviane was one of thousands of people screened by Mercy Ships during the first weeks of service in Benin. She has a large tumour on her face called an Emiloblastoma, caused by the cells that form the enamel of teeth. If Viviane had access to safe, timely and affordable health care the tumour could have been removed in its early stages under local anaesthetic by a general practitioner. But no such care is available to the majority of West Africans, and now Viviane faces the real risk of being suffocated by the mass.