One ship. Thousands of people suffering life-threatening illness. A team of Australian medics facing life and death decisions.  
A team of volunteer Australian medics are sailing to the poorest nations on earth. This year they will face the most severe of medical issues, not seen in other parts of the world. Huge tumours left to grow unchecked, massive deformities and more. But the medical challenges are only half of the story. They will confront ethical decisions as they decide who will be helped and who will not. This is a searing, complex journey for the volunteer medics, as they deal with life and death cases – and balance the fates of these patients in their hands.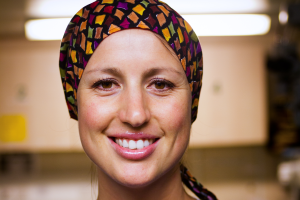 Dr. Nerida Moore
Plastic Surgeon
Nerida is a young surgeon who is just starting to specialise in plastic surgery. Many days the most critical decision her patients face is a B or C cup breast enlargement. Unsatisfied with this, Nerida has volunteered on the ship. For Nerida, the ship is a welcome challenge to engage with the kind of work that fulfils her – people in need and in particular children in need. On meeting Maimuna, Nerida is immediately caught by the quiet spirit and resolve this child has marshalled to cope with the horrific tumour growing on her face.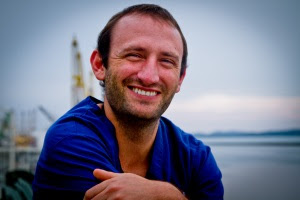 Nick Veljtens
Physiotherapist
As a physiotherapist for the ship, Nick is responsible for patients' rehabilitation. The surgery is just one part of the whole. Orthopaedic patients must learn to walk again. Burns patients must be taught how to move. Without this care, the patients will never fully recover. Nick is there for the long slow weeks and sometimes months of recovery, where he must inspire his patients to finish the long journey to health. Part of his job is to motivate his patients to keep trying exercises that are painful and hard. Nick must gain the trust of his patients as he takes them through rehab – and as a result he forges powerful relationships with them as he explains, cajoles and encourages them in anyway he can.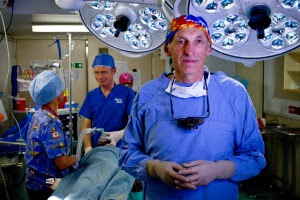 Dr. Neil Thomson
Ear, Nose & Throat Surgeon
Dr. Neil Thomson was inspired to become a doctor partly through the experience of watching his young nephew suffer from childhood leukemia. Seeing his sickness and observing the medical treatment which cured him drew him to become a surgeon himself. Later, as a senior surgeon working in Australia, he decided to help futher by volunteering his services to the Mercy Ships organisation. Initially concerned about the challenge of being a doctor for screening day, he overcame this to travel to Guinea for the start of the 2012 ship field service. On board Neil, treats many patients successfully – but his most difficult challenge comes in the form of a young boy who has a serious and potentially untreatable mouth tumour.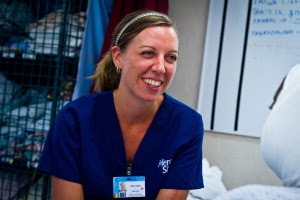 Deb Louden
Ward Nurse
Inspired by the nurses who looked after her so well after a terrible accident that left her with multiple broken bones in her teens, Deb joined Mercy Ships after completing her studies. Initially a short term volunteer, Deb returned to the ship again and stayed for six years. Deb is ward and charge nurse in the on board hospital and is amazed by the diversity of languages and cultures on board working together as one team, with one goal, with people from all over the world.