Nurse Tamara Lowe from Western Australia loves her job so much that she finally convinced her parents to fly half way across the world to work alongside her on her latest medical mission to Africa.
Tam, who has been volunteering with Mercy Ships on board our hospital ships each year since 2014, had always wanted her dad Mark and mum Liz to share her experience.
"I was always saying to Dad, who is a radio engineer back home, that they need a Sound Technician on the Africa Mercy."
"And I knew Mum would always be able to do a number of different jobs on board," she said.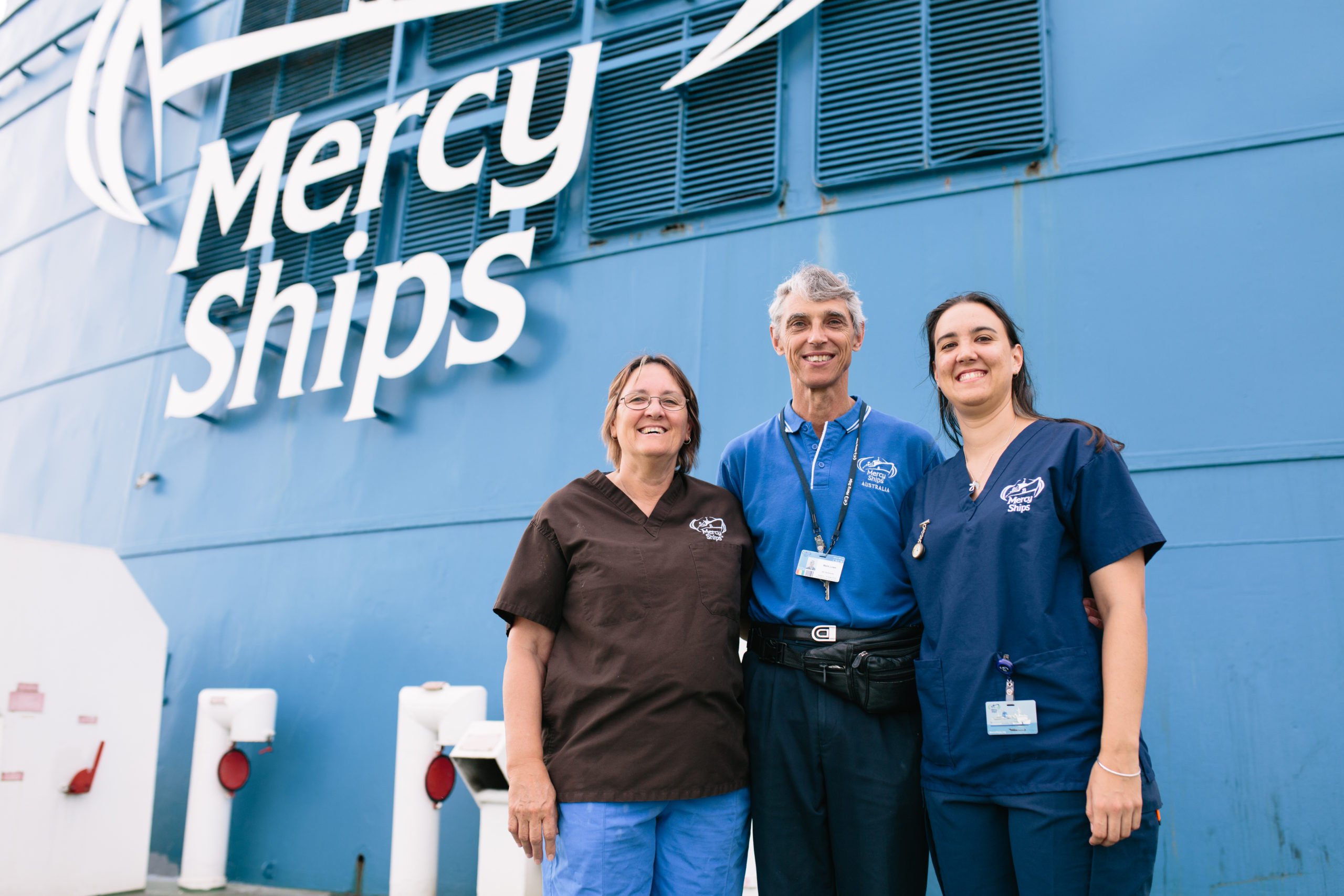 "Now I get to share what I do with my parents. Growing up we often used to go to work with Dad; now it's awesome to get to share this too!"
It wasn't until their youngest daughter Belinda left home that Mr and Mrs Lowe took the chance to volunteer.
They travelled to the Canary Islands to join the hospital ship on its sail to the West African nation of Guinea then served for three months, while Tam continues to serve on board as a long-term volunteer.
"Guinea is the same as all of Africa; the problem is too big so why should I try, what can I do? But if we all, and I mean all, do our bit we can make a difference," Mark said of his motivation to volunteer.
"I know that the majority of people in Guinea are some of the poorest in the world," his wife Liz added.
"One thing I like about Mercy Ships is that they spend a lot of time and effort in training the locals. Whether it be the doctors or dentists or any other field of expertise we can train, it means that when we leave the country is better off because of those who live here now have more skills."
"I absolutely love the work," Tam said.
"It is hard and challenging at times, but I find it very rewarding to be able to help the people we serve to heal from their physical and often emotional wounds. It's a beautiful thing to be able to see them come out of their shells and take a step back into society."
"I am often asked what it's like having my parents on board this time. It is different to the other times I have been here. It is nice to be able to have a hug from Mum and Dad and to share this experience."
"I will definitely be sad when they leave."
"The best thing has been seeing first hand where Tamara has been living and working and also meeting some of the friends she has made," Mrs Lowe recalled.
"Nothing can prepare you for this except love and compassion and a willingness to serve," Mark concluded.
There are so many ways to get involved with our mission of bringing hope and healing to those in need. For more information, check out mercyships.org.au/volunteer.