When Mafoudiya was born, her mother, Mabinty, was unable to truly enjoy her child's bright eyes or sweet smile because of the worry that consumed her. Her daughter was born with a cleft lip, and the family had little access to medical help.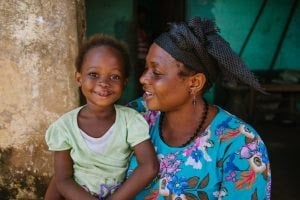 Due to Mafoudiya's cleft lip, other children would often make fun of her, even calling her a demon on occasion. This broke her mother's heart, but without access to surgery, Mabinty had no choice but to hope and pray for a miracle. When she heard that Mercy Ships was sailing into the capital city of Guinea, she knew this was her one chance to find help for her daughter. After a long journey from their village to the city, they waited to be seen by a team of medical professionals on board the Africa Mercy. But long hours and longer lines left them coming back day after day, hoping to be seen. When a Mercy Ships nurse noticed little Mafoudiya standing with her mother, he immediately pulled them inside to be seen by a screening team. Now what seemed impossible just hours before became a reality, and Mafoudiya was given a surgery date!
After volunteer surgeons repaired her cleft lip, Mafoudiya's radiant smile shone even brighter than before. Mabinty shared the joy of her little girl's healing saying, "I waited for this for so long. I am so grateful…and so happy." Those on the Africa Mercy often see stories like Mafoudiya's unfold, but those numbers seem to be decreasing. In Guinea this year, volunteer medical professionals saw significantly fewer cases of cleft lips than they were expecting. During a recent screening, over 6,000 people were seen, and only SIX children in that group showed signs of cleft lips.
This unusually small number is due in part to the training of local surgeons with the Mercy Ships Medical Capacity Building program. Over the past two years, local surgeons have repaired over 323 cleft lip cases in Guinea. "People have told me that doing any kind of mentoring in poor countries just doesn't work, but I beg to differ," said Dr. Gary Parker, Chief Medical Officer and Maxillofacial Surgeon.
"We are here in one of the poorest nations on earth and it is working. They are taking care of their own people. I'm very excited about that."