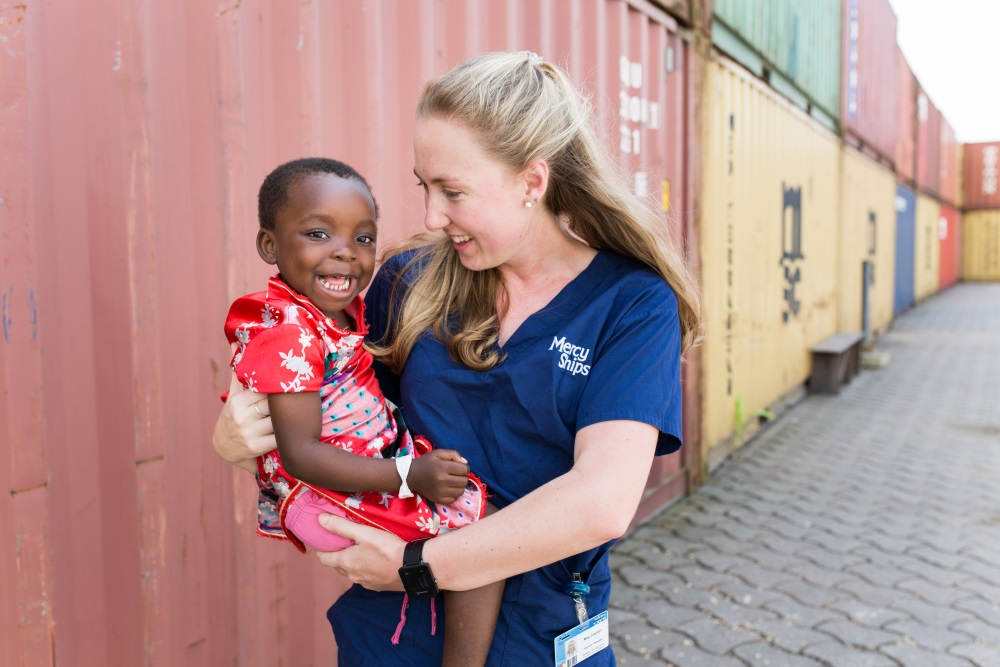 With her fluffy pink dress and shiny shoes, three-year-old Cecilia is an undisputed princess – and no one is prouder of this ray of sunshine than her father, Emmanuel.
She's brimming with delightful energy, and Emmanuel is always one step behind her, ready to help her in the right direction. But, until recently, Cecilia needed more help than most little girls.
"She smiles all of the time," said Emmanuel, "but she needs help to walk."
Her legs appeared normal at birth, but as she grew, one of her knees formed abnormally. She was diagnosed with knock knees, a condition that causes the knees to angle together and makes it nearly impossible for the legs to stay straight.
Cecilia's parents watched their bright-eyed child grow from baby to toddler—and her knock knee continued to worsen.
Finally, Emmanuel brought his daughter to Mercy Ships in search of a miracle. They left behind Cecilia's mother and baby brother in hopes that when they reunited, Cecilia's legs would be straight and her future brighter.
On the dock beside the Africa Mercy, father and daughter sat together on a wooden bench while the monsoon rain poured down. Their warm smiles betrayed their long journey.
"I'm so thankful for Mercy Ships coming to serve my people who are in need," said Emmanuel.
The family spent over a year waiting for a surgery that took little over an hour on the Africa Mercy. It was a simple procedure that would have enormous effects on little Cecilia's life.
Cecilia was a source of joy in the hospital wards, and it wasn't long after her surgery before she bravely took her first steps with her miniature walker. The only one smiling bigger than her was Emmanuel, who said her future now looks "bright and full of possibilities."
Cecilia's recovery time on board the ship was filled with laughter as she played with bubbles and had her nails painted by nurses. Six weeks after surgery, it was time for her cast to come off!
Her rehabilitation helped her grow comfortable walking on her straightened leg and when the time came for Cecilia and Emmanuel to go home, the volunteer team farewelled them with lively singing and dancing.
Now, Cecilia can step forward into a life of limitless opportunities. She may only be three years old, but Emmanuel is already dreaming big for his little girl.
"My dream for her is to grow up and become a doctor, so she can change people's lives," Emmanuel said. "Just like the doctors here have changed hers."